There is no time to wait. Trump has put an 18-month deadline on
Haitian immigrants to leave the U.S. Congress must act now.
Late Monday night, the Department of Homeland Security announced that the Temporary Protected Status program for nearly 60,000 Haitian immigrants will end.1 Now thousands of Haitian immigrants are forced to leave the U.S. within the next 18 months — creating fear and uncertainty. This comes just one week after the Trump administration announced that TPS would be eliminated for 2,000 Nicaraguan immigrants.2 Since 2010, after the devastating earthquake in Haiti that left hundreds of thousands dead, and millions displaced, many individuals and their families were granted safety and protection in the U.S. Now, after nearly 10 years of living in the U.S., many will be forced to leave behind loved ones, businesses, jobs, homes, and entire communities they have rightfully built. Right now there is legislation moving in Congress that would allow all TPS recipients to remain in the U.S.
Over 34,000 Color of Change members have signed the petition to demand Congress protects all immigrants. Carmen, your name is missing, will you sign today?
Last night's heartbreaking news is just a part of a long list of Trump's agenda to criminalize and punish Black and Brown immigrants. This cruel announcement comes right during a time when many families and friends will be gathering to spend time together, but Trump is choosing to tear Black and Brown families apart. We already see this with the decision to end the Deferred Action for Childhood Arrivals (DACA) and the uptick in deportations. Right this moment, Congress must step up to pass fair and just legislation that will honor and instill dignity and humanity in all immigrants.
Until justice is real,
Scott and the rest of the Color of Change team
P.S. Check out the original email we sent:
References
1. "Trump administration to end provisional residency protection for 60,000 Haitians," Washington Post, 11-20-2017 https://act.colorofchange.org/go/10814?t=7&akid=8184%2E1174326%2EsK0R7n
2. "Trump administration to end TPS for Nicaraguans. No decision on Haitians, Salvadorans," Miami Herald, 11-06-2017 http://act.colorofchange.org/go/10815?t=9&akid=8184%2E1174326%2EsK0R7n
---
Trump just announced immigrants are not wanted in the U.S.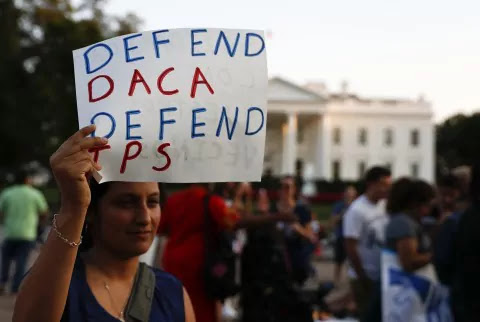 It's time for Congress to pass the DREAM Act and demand the White House extends TPS.
Jeff Sessions just announced that the Trump administration will end Deferred Action for Childhood Arrivals DACA.1 Today, more than ever our communities must continue to fight back against the Trump regime.  DACA currently protects over 800,000 young immigrants from being deported. It allows immigrants to stay in the U.S., live with their families, work, go to school, and thrive in their communities. Without such a program, millions of families will be torn apart.
But there's more: Trump is refusing to extend the Temporary Protected Status program for hundreds of thousands of immigrants who have sought safety here in the U.S. from harm, climate disaster, violence in their home country. Many Haitian immigrants and other Black immigrants benefit from this program. It is expected to expire in January. When it expires, many of these immigrants will be immediately deported — forcing many to live in fear. There is already bipartisan support for the extension of TPS. But not for Haitian immigrants.The Trump administration has even said, "Haitians should be prepared to go home."2 No one should have to live in that kind of fear. There is no time to waste — Congress must act quickly to protect all immigrants.
Tell Congress to pass the DREAM Act and extend the Temporary Protected Status program. Sign the petition.
Since the start of Trump's occupation in the White House, he has laid out an agenda that harms immigrants. It began with the executive orders to strip funds from Sanctuary Cities and issuing travel bans that target Muslim immigrants. We cannot forget the Trump administration is determined to build a border wall. One of the country's largest private prison companies GEO Group received one of the first contracts from the Trump administration that resulted in the opening of a large Texas detention center for children and families. All of this is happening right on the heels of Trump abusing his power and pardoning former Maricopa County, Arizona sheriff Joe Arpaio who was just convicted weeks ago for human rights abuses. He is a known racist who spent his entire tenure as sheriff racially profiling Latinx communities. But at every turn, people have fought back: blocking the travel ban, stalling the funding of the border wall, and cities filing lawsuits to protect Sanctuary Cities. So we know together we will continue to win each and every battle.
Trump's agenda is all part of a larger racist, white supremacist agenda to get rid of communities of color, and Black and Brown immigrants. Congress must stop Trump now. Congress must put forth the effort to not allow Trump use immigrants as pawns for his agenda to build a wall and must stop the increased policing. Their silence must end today.
Sign the petition to demand Congress pass the DREAM Act and extend TPS.
Trump does not care about any immigrant. He wants to get rid of every immigrant and their families. This is a clear attack on all Black and Brown immigrants regardless of their status. Congress can no longer stay on the sidelines and let Trump continue his vicious attack on immigrants. For years, people have been on the frontlines pushing for change that will end the discrimination and violence against immigrants. The reality is, more needs to be done to ensure all immigrants are protected. Congress must not exploit immigrants to promote Trump's agenda for building a wall or increasing funding for harsher policing and law enforcement. Instead, the legislation must reflect the justice our communities. We must end all criminalization of Black and Brown people. Every single person deserves the right to freely live their lives with dignity and without shame. This means, no ban, no wall, no deportations, no detention centers, #DefendDACA #SaveTPS, pass the DREAM Act, and protect our communities.
Until justice is real,
Scott, Rashad, Arisha, Scott, Anay, Clarise, Enchanta, Malaya, Katrese, and the rest of the Color Of Change team
References
1. "Watch: Attorney General Jeff Sessions expected to announce end of DACA immigration program," CNBC, 09-05-2017
https://act.colorofchange.org/go/8754?t=16&akid=8184%2E1174326%2EsK0R7n
2. "'Temporary' Doesn't Mean What You Think It Means" National Review, 05-22-2017
http://act.colorofchange.org/go/8730?t=18&akid=8184%2E1174326%2EsK0R7n