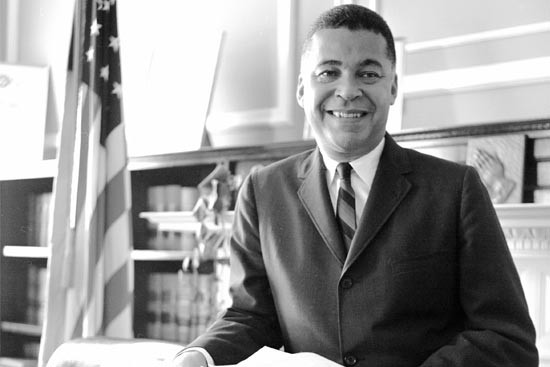 Edward William Brooke III was an American Republican politician. In 1966, he became the first African American popularly elected to the United States Senate. He represented Massachusetts in the Senate from 1967 to 1979.
Brooke was born on October 26, 1919 and raised in Washington, D.C.. He graduated from the Boston University School of Law after serving in the United States Army during World War II. After serving as chairman of the Finance Commission of Boston, Brooke won election as Massachusetts Attorney General in 1962. In 1966, he defeated Democratic Governor Endicott Peabody in a landslide to win election to the Senate.
In the Senate, Brooke aligned with the liberal faction of Republicans. He co-wrote the Civil Rights Act of 1968, which prohibits housing discrimination. Brooke became a prominent critic of President Richard Nixon and was the first Senate Republican to call for Nixon's resignation in light of the Watergate scandal.
for the complete article … Blackthen.com
by jae jones