POSTED BY M. SWIFT – OCTOBER 5, 2021 – BLACK POLITICS, RACISM, RECONSTRUCTION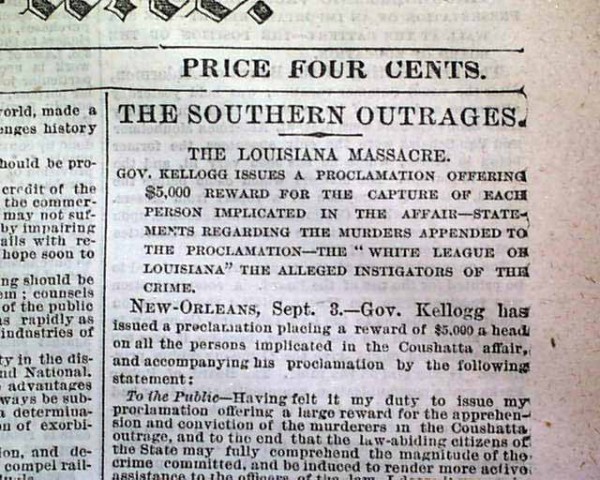 The Coushatta Massacre took place in August 1874 where the White League targeted Republican politicians presiding over Red River Parish and freedmen in the area. It would be the arrival of carpetbagger and Union vet Marshall H. Twitchell, his relationship with the freed Black community, and his position of power that ignited the league's terror campaign in the parish.
Tensions in Coushatta
At this time, Black people of note and carpetbaggers are now in state legislature. They also hold office in a number of town offices throughout the south. One of them was Marshall H. Twitchell, a white captain for the U.S. Army's Company H, the 109th Colored Infantry. He was originally a provost marshal of the Red River branch of the Freedman Bureau.
While in Red River, he married a local Black woman named Adele Coleman. To provide for his family, the Vermont-born Twitchell learns to farm cotton after being taught by the Coleman family. The tensions began as this northern-born Union veteran began to accumulate land and influence in political power. He is elected to the Louisiana Senate as a Republican and put his brothers and brothers-in-law in positions of power.
For the complete article
blackthen.com
Reference
–http://www.knowlouisiana.org/entry/coushatta-massacre