by Timothy Oleson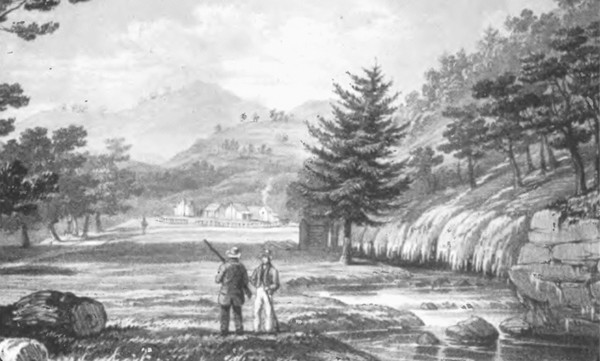 Published in the second volume of George William Featherstonhaugh's "Excursion Through the Slave States" in 1844, this lithograph depicts Hot Springs in the mid-1830s. Lining Hot Springs Creek are a few small cabins in the center of the image and, at right, natural formations of calcium carbonate called tufa. Credit: National Park Service, Hot Springs National Park Collection.
In March 1872, not long after William Henry Jackson's photographs from the famed Hayden Geological Survey first introduced the U.S. populace to the rugged majesty of northwestern Wyoming, President Ulysses S. Grant designated Yellowstone as the country's first official national park. Some 40 years earlier, however, a comparatively small plot of land in Arkansas had garnered a similar designation, albeit in different terminology, from then-President Andrew Jackson.
In the early 1800s, the mineral-rich, geothermally heated and ostensibly curative waters bubbling up at the base of Hot Springs Mountain, about 80 kilometers southwest of Little Rock, Ark., had been attracting European settlers for more than 200 years and Native Americans long before that. Amid its growing popularity and at the behest of the Arkansas Territorial Legislature, Jackson claimed a 10-square-kilometer area around the springs as a "federal reservation" in 1832, thus setting it aside for public use and nominally prohibiting private ownership of the land.
After that designation, both the park and the city of Hot Springs, Ark., which grew up intertwined with the park, underwent many transitions. For patients and visitors seeking a regimen of soothing natural baths, it remained one of the foremost destinations in the United States — along with others such as Saratoga Springs, N.Y., and White Sulphur Springs, W.Va. — until the practice of taking curative baths began to wane in the mid-20th century. But Hot Springs National Park — as it was officially designated in 1921 — is still popular with tourists looking to immerse themselves in its architecture, its history, and, thanks to the area's distinctive geology, its inviting waters.