Might be or WERE part of that…one drop rule – BLACK
Booker T. Washingtonborn in 1856 of an unknown white father and black mother, was an example of miscegenation. He was an influencing educator and advisor to the president of the United States in his lifetime.
J. Edgar Hoover
Hitler's Jewish ancestry isn't the strangest twist in racial history. FBI director J. Edgar Hoover — the man who plagued the black liberation movement from Marcus Garvey to the Black Panther Party — was known by his peers as a passing black man.
His childhood neighbor, writer Gore Vidal famously quoted, "It was always said in my family and around the city that Hoover was mulatto. And that he came from a family that passed."
And apparently, that was a closely-guarded secret. Millie McGhee, author of Secrets Uncovered: J. Edgar Hoover Passing For White, said,
"In the late 1950's, I was a young girl growing up in rural McComb, Mississippi. A story had been passed down through several generations that the land we lived on was owned by the Hoover family. My grandfather told me that this powerful man, Edgar, was his second cousin, and was passing for white. If we talked about this, he was so powerful he could have us all killed. I grew up terrified about all this."
The Medici Family
It's hard to get through any

school

lesson about the Italian Renaissance without talking about the Medici family. What history doesn't like to talk about is that the financial ruler of the western world — Alessandro de Medici, Duke of Penne and Duke of Florence and commonly called "Il Moro" (Italian for Moor — a term commonly used to describe anyone with dark skin) — was born to an African-Italian mother (a servant) and a white father (who would later become Pope Clement VII).
It was not until the 19th and early 20th centuries that discussion of Alessandro's "race" came into its own—and then not in a good way. Scientific racism provided the intellectual backdrop against which historians of the Medici judged Alessandro's rule. But Alessandro also attracted the attention of scholars seeking to challenge racism. In 1931, in the United States, Arturo Alfonso Schomburg, co-founder of the Negro Society for Historical Research and creator of one of the most important collections of sources for African history, wrote an article about him for The Crisis, the magazine of the US-based National Association for the Advancement of Colored People. Still, while the story may have been known in the USA, it was far from visible to me as a traveller to Florence, which I had visited three times before I heard it. When I did, I found it not in the city's galleries, but in an academic book chapter in the University of London library. In the museums of Florence itself there was scanty evidence even for Alessandro's existence. A few years ago, when I visited the Uffizi Gallery, his portrait was not on display. To prove to friends that he was real, I was reduced to apologetic leafing through old exhibition catalogues in the gallery bookshop. A friend who had spent a decade studying sociology at the University of Florence knew nothing of the tales of Alessandro's ethnicity. Nor did my Florentine landlady, who had lived in the city for years. She smelt a conspiracy. In the past ten years or so, there has been greater acknowledgement—both in academic literature and in the art world—of the likelihood that Alessandro was mixed-race. Yet he is still very far from a well-known historical figure.
For a very long time, the city of Florence has been mythologized as the symbolic heart of European culture, the cradle of western civilization. It abounds with the images and stories of great men: Dante, Botticelli, Lorenzo de' Medici, Michelangelo, Galileo. The Renaissance was the first period—so the traditional history went—in which we could truly speak of the great individual, of the "Renaissance man." Alessandro's story reminds us that Renaissance men may not always have been white. Alongside the art and poetry, the scheming, intriguing, bloody side of Renaissance politics is well known too. As Orson Welles famously riffed, "In Italy for 30 years under the Borgias they had warfare, terror, murder, and bloodshed, but they produced Michelangelo, Leonardo da Vinci, and the Renaissance." To terror, murder, and bloodshed, Alessandro's story adds slavery and the seeds of racism.
In Hollywood's Golden Age, studios not only anglicized the names of actors but also expected them to downplay their ethnic origins. As such, several movie stars who weren't solely of European heritage worked to adjust their appearances so they ​passed for white in film, their personal lives, or both. Fast forward to modern days, and many actors today are bi-racial but still pass for white.
Clark Gable
Gable did not try to hide his black and Native-American heritage, although it wasn't widely publicized either. When his Gone with the Wind costar Hattie was not permitted to attend the premiere in Atlanta, Georgia, he threatened to boycott it. When he saw "colored" and "white" bathrooms on the set, he refused to continue working until all of the cast were treated equally.
If you thought Michelle Obama was the first black first lady, surprise! Jackie Onassis' ancestor John van Salee De Grasse was the first black American formally educated as a doctor. Her father was nicknamed "Black Jack" Bouvier because of his dark complexion.
Alexander Hamilton
was the first secretary of the treasury whose face adorns the U.S. 10-dollar bill. Alexander Hamilton's mother, Rachel Fawcett Lavain, was said to be of "mixed blood." Alexander's older brother was dark-skinned and treated as black. Even though his mother was half-black, both she and Alexander were light skinned enough to pass as white.
For black history buffs, it's really all about the Hamiltons. Alexander Hamilton isn't just the man on the $10 bill, he was the United States' first Secretary of the Treasury. His mother, Rachel Fawcett Lavain, was said to be of "mixed blood" and his father was the son of a Scottish Duke. Alexander's older brother was dark-skinned and treated as black. But Alexander was light enough to pass and went on to establish the first national bank in the American colonies, founded the U.S. mint and wrote most of the Federalist Papers. Hamilton was born as the illegitimate son of Rachel Fawcett Lavien on a Carribean island the size of the town of Kirkland called Nevis. His mother was divorced for infidelity long before Hamilton was born, casting question onto Hamilton's father. Some claim that it was James Hamilton, the man who lived with Rachel. Others claim it was Nicolas Cruger, a Carribean merchant with connections in New York who employed an eleven year old Alexander Hamilton after his alleged father left him and his mother died. Some claim that Hamilton's mother had affairs with her slaves. Additionally, many claim that Hamilton's mother was herself part black, newspapers record Hamilton being called a mustee (implying his mother was a quarter black) by political enemies.
Ludwig Van Beethoven
Even though paintings of the composer depict him as very Caucasian, his death mask highlights his African features
The famous classical composer's mother was a moor. It's a fact that became popular again after this cast of his African facial features contradicted the "idealized" paintings of the man history likes to re-imagine.
The question was brought to modern science, but recent DNA evidence was inconclusive. For more information, please refer to the related link from the Washington Post. The research team also said that future DNA analysis might answer lingering questions about Beethoven's ethnicity. As a young man, the dark-complexioned Beethoven sometimes was called "the Moor," and some historians have questioned whether he had African blood. Walsh said his analysis of the hair strands showed "no wrinkles or bends" typical among people of African descent, but that more tests may be conducted.
Saint Nicholas
the real story of Santa Claus begins with Saint Nicholas who lived from 270 to 343 A.D.,a village of Patara is the saint upon whom the legend of Santa Claus is based. St. Nicholas lived in what was once Greek, is now Turkey, which was at that time a hub for people of African descent. Ancient pictures of St. Nicholas depict him as a dark-skinned man with African features, in contrast to his modern whitewashing as the rosy-cheeked Santa Claus. He was born to wealthy parents, who died in an epidemic while Nicholas was still young. Nicholas used his entire inheritance to assist the needy, the sick, and the suffering.
Queen Charlotte of Great Britain
was descended from Madragana, a Moor (a north African), and Portugal's King Alfonso III. She was queen when America declared independence from Britain. Charlotte's parentage makes Queen Elizabeth II, Prince Charles and Prince William technically mixed race. This 18th century painter got into hot water when he painted Queen Charlotte's features a little too realistically. The painting stirred up long-standing rumors about King George III's wife's African heritage. And those rumors turned out to be true. Queen Charlotte was the member of a Portuguese royal family begun by Alfonso III and his lover Madragana "a moor". Because this makes Queen Elizabeth II, Prince Charles and Prince William technically mixed race, many historians have tried to cast doubt on the nature of Queen Charlotte's heritage. But her personal physician has noted her "true mulatto face" and the public report released before Queen Elizabeth II's coronation in 1953 acknowledges the monarchy's African heritage. It is a great "what if" of history. "If she was black," says the historian Kate Williams, "this raises a lot of important suggestions about not only our royal family but those of most of Europe, considering that Queen Victoria's descendants are spread across most of the royal families of Europe and beyond. If we class Charlotte as black, then ergo Queen Victoria and our entire royal family, [down] to Prince Harry, are also black … a very interesting concept.
Alexander Pushkin
The man considered the father of Russian literature was he great-grandson of an Ethiopian prince. Among Pushkin's more famous unpublished works (left after his death in a duel) is an unfinished novel about his Ethiopian great-grandfather. Ossip Abramovich Gannibal's father, Pushkin's great-grandfather, was Abram Petrovich Gannibal (1696–1781), a Black African page kidnapped and brought to Russia as a gift for Peter the Great.
Bettmann/Getty Images Fredi Washington

With her fair skin, green eyes, and flowing hair, actress Fredi Washington possessed all the traits needed to pass for white. In 1934's "Imitation of Life," Washington plays a light-skinned black woman who denies her black mother to cross the color line, posing as white.
In real life, Washington refused to deny her heritage, advocating for blacks in entertainment. Married for a time to black trombonist Lawrence Brown, the only time Washington reportedly passed for white is to buy snacks from the establishments that refused to serve her husband and his bandmates because of their skin color.
Carol Channing
Enduring comic legend Carol Channing didn't reveal to the world that her father was black until 2002, when she was over 80 years old.
When Broadway sensation Carol Channing was 16, her mother let her in on a secret: Channing's paternal grandmother was black. Known for being a gay rights advocate, Channing didn't reveal her African American ancestry to the world until 2002, when she released her memoir, "Just Lucky I Guess," at the age of 81.
Channing said she never felt ashamed of her black roots. Rather, she believed her black ancestry made her a good performer because of the common stereotype about blacks being naturals at singing and dancing. "I thought I had the greatest genes in showbiz," Channing remembered.
Channing went on to win accolades for her performances in "Hello Dolly!" and "Gentleman Prefer Blondes."
Merle Oberon (1911–1979)
Merle Oberon earned an Oscar nod for her acting in 1935's "The Dark Angel" and earned additional recognition for playing Cathy in 1939's "Wuthering Heights." But off-screen, Oberon feared that her secrets would be exposed. She wasn't solely white nor was she born in Tasmania like actor Errol Flynn, as she told people.
Instead, she was born in India to an Indian mother and an Anglo father. Rather than disown her mother, Oberon passed her parent off as a servant. When the actress visited Tasmania later in life, the press hounded her for details about her upbringing, forcing her to admit that she wasn't born there. Still, Oberon did not confess to being Indian.
The 2002 documentary "The Trouble with Merle" examines Oberon's deceit about her origins.
Anatole Broyard
Famous New York Times book reviewer Anatole Broyard was born to light-skinned black parents in New Orleans and passed himself off as white once he grew up and moved out of his predominantly black Brooklyn neighborhood. The truth wasn't revealed until his daughter Bliss wrote the book One Drop: My Father's Hidden Life — A Story of Race and Family Secrets.
American writer Anatole Broyard passed as white his entire life. It wasn't until his daughter, Bliss, published One Drop: My Father's Hidden Life — A Story of Race and Family Secrets was the truth revealed: The famous New York Times book reviewer was born to light-skinned black parents in New Orleans and started passing once he grew up and moved out of his predominantly black Brooklyn neighborhood.
Juan de Pareja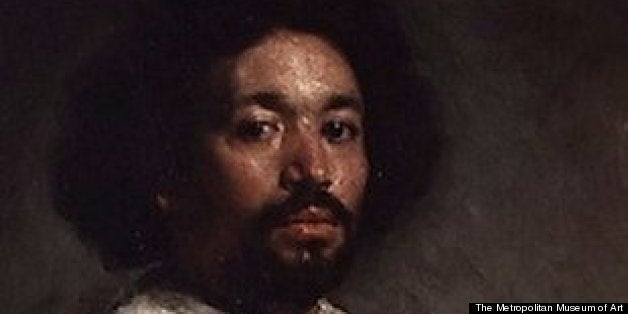 A Spanish painter, Juan de Pareja was described as a "Morisco," which means "of mixed parentage and strange color." He was born into slavery, the son of an enslaved mixed-race woman and Spanish father. Pajera is known primarily as a member of the household and workshop of painter Diego Velazquez, who freed him in 1650.
SAINT AUGUSTINE
No course covering Philosophy 101 is complete without referencing Christian theologian Saint Augustine.
What's less commonly covered is his African origins and birth place of (modern-day) Souk Ahras, Algeria. He was the eldest son of Saint Monica of Saint Augustine. Aurelius Augustinus (his birth name) was born in Africa, educated in Rome, and a Milanese by baptism. He spent his early years in what is now know as Souk-Ahras, Algeria. Often called Augustine of Hippo, "The knowledgeable one," by the Roman Catholic Church, he was considered by Evangelical Protestants to be (together with the Apostle Paul and the Bible) the theological fountainhead of the Reformation teaching on salvation and grace.
the fact that Augustine has African origins and was born in what is now Algeria. Later medieval depictions made him look Caucasian.
King Tutankhamen
The boy pharaoh King Tutankhamen is sometimes described as fair skinned, but artifacts found at his tomb identify him as a black African.
Tut was heralded as a mixed race but he is basically 94 black in terms of DNA matching (including East African and 93% without East African), which means he was indisputable black with likely some DNA matches with other groups (from being human) or contamination.
The Boy Pharaoh of Ancient Egypt is often depicted as fair-skinned. But these images recovered from his tomb (in addition to several other artifacts) have identified him as a black African. The panelists believe the Egyptians of Tut's time had, for the most part, very dark skin, like people from sub-Saharan Africa. Charles Finch is the director of International Health at Morehouse School of Medicine in Atlanta. "Whenever ancient writers, Hebrew or Greek, make any reference to ancient Egyptians' color, it's always black," Finch said. "There was no issue back then. There was no discussion. There was no debate. It only became a debate in the last 200 years."
Joseph Boulogne
also known as Le Chevalier de Saint-George or the "Black Mozart." He was the son of an enslaved African woman and a father who was a wealthy planter. Boulogne climbed the ladder of French society because of his mastery of European music and sword-fighting.
Alexandre Dumas
A French writer ,the author of The Three Musketeers and The Count of Monte Cristo. He was born to a white father, a general and rival of Napoleon Bonaparte, and an enslaved mother.
Alexandre Dumas was the son of the General Dumas born in 1762 to a white father and an enslaved mother. General Dumas was such a good general that he made his rival — Napoleon Bonaparte — nervous. Thanks to Napoleon's machinations, the General ended up imprisoned in a dungeon for years — the story that inspired Alexandre to write The Count of Monte Cristo about his father.
King Piye
A Nubian King invaded Egypt around 730 B.C. and united the nation for over seven decades under his rule and then his son's. Nubia would become modern-day Sudan. For years bigoted archaeologists suppressed the fact that a black man conquered the fair-skinned Egyptians.
Hannibal of Carthage
— one of the greatest military strategists in history is often depicted with much… narrower features. But these coins depicting Hannibal and his famous army of elephants leave little doubt in the minds of many historians of his African ancestry. Here, the focus is the Mediterranean world in antiquity — things were different then. Hannibal came from an area we refer to as northern Africa, from a Carthaginian family. The Carthaginians were Phoenicians, which means that we would conventionally describe them as a Semitic people. The term Semitic refers to a variety of people from the ancient Near East (e.g., Assyrians, Arabs, and Hebrews), which included parts of northern Africa. [See Semitic Languages in Their Original Homelands Map.] The world view was very different.
Juan Latino, born Juan de Sessa,
was a notable Spanish black scholar at the University of Granada in 16th-century Spain. He was the son of black slaves of the duke consort of Sessa and was educated with his master's son. Latino was eventually freed, easily assimilated into Spanish society due to his education, and enjoyed an interracial marriage.
George Bridgetower
George Augustus Polgreen Bridgetower was an Afro-Polish virtuoso violinist who lived in England for the majority of his life, which enabled him to easily navigate white high society. He was the son of Frederich Bridgetower, an African prince, and a Polish woman of German descent named Mary Ann.
Resources
lithub.com
wiki