KFI radio host Bill Handel called U.S. Rep. Frederica Wilson a derogatory slur on air, twice.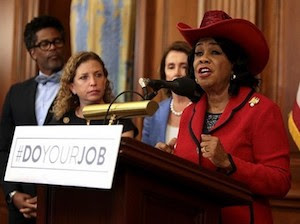 Tell KFI's parent company, iHeartMedia, to immediately fire Bill Handel for his derogatory attack on Rep. Wilson!
Dear Friends,
Rep. Frederica Wilson (D-FL) was called a "whore" TWICE by KFI radio host Bill Handel — we need to have her back.1
After exposing Trump's appalling and disrespectful remarks to a Gold Star widow, Myeshia Johnson, whose husband, Sgt. La David Johnson, was killed in Niger earlier this month, Rep. Wilson was repeatedly targeted by Trump and his administration.2 Emboldened by Trump, right-wing radio hosts like Bill Handel made misogynistic and degrading attacks.
We cannot allow attacks like this to stand. iHeartMedia, the parent company of KFI has the power to remove Bill Handel from the airwaves. It's time iHeartMedia stops profiting from hosts that attack Black women.
Demand iHeartMedia immediately fire Bill Handel!
Bill Handel and KFI have used their position on L.A. radio for decades to disparage and humiliate Black people and Black culture. From mocking the Kwanzaa holiday to quips about the Congressional Black Caucus serving grape soda at their parties.3 In 2012, KFI afternoon drive hosts John Kobylt and Ken Chiampou of the John and Ken Show finally got themselves suspended after they called the late singer Whitney Houston a "crack ho" after years of insulting people of color.
The comments KFI and iHeartMedia are allowing their hosts to make are dangerous.They shape perceptions of Black people in the minds of viewers, and thus endanger Black people in neighborhoods, courtrooms, and classrooms across the country.4
That's why we're demanding that iHeartMedia immediately fire Bill Handel. Black womanhood have always been political–and disturbing "jokes" about appearances are a common go-to for misogynistic white supremacists who are trying to belittle Black women's power. In just the last few months we have seen efforts like this repeated from Trump and right-wing media outlets – attacking powerful black woman like Rep. Maxine Waters, journalist April Hill, and ESPN TV host Jemele Hill. Research shows there are real life consequences for Black women when these dehumanizing attacks rule the day including diminished economic opportunities, less attention from doctors, and harsher sentences from judges.
Rebuke Bill Handel's attack on Black womanhood and tell iHeartMedia to apologize for the segment now.
Few things upset a racist more than a powerful Black woman unapologetically exposing the illegitimacy of white supremacy and the power it wields–and Representative Frederica Wilson did that when she challenged Trump's appalling comments to Gold Star widow, Myeshia Johnson.
If we continue to let KFI and iHeartMedia produce segments like the one with Bill Handel, without repercussions, we say that it's okay for this show and shows like it to attack Black womanhood for ratings. And it's not–they must be accountable for their cruel attacks. We can't let this continue. We stand with Representative Frederica Wilson and we call on iHeartMedia to rebuke Bill Handel's attack on Black womanhood.
Stand with Representative Frederica Wilson and tell iHeartMedia to fire Bill Handel now.
Until justice is real,
— Brandi, Rashad, Arisha, Johnny, Evan, Jade, Chad, Corina, the rest of the Color Of Change team.
References:
1. "L.A. Radio Host Insults Congresswoman at Center of Trump Controversy," LA Weekly, 24 October 2017. http://act.colorofchange.org/go/9755?t=9&akid=8097%2E1174326%2EXGzYYv
2. "As Loved Ones Say Goodbye to US Soldier Killed in Niger, Trump Continues to Disrespect Congresswoman Affiliated With His Family," The Root, 22 October 2017. https://act.colorofchange.org/go/9756?t=11&akid=8097%2E1174326%2EXGzYYv
3. "KFI Audio," Jasmyne A. Cannick, 25 October 2017. https://act.colorofchange.org/go/9757?t=13&akid=8097%2E1174326%2EXGzYYv
4. "Opportunity for Black Men and Boys: Public Opinion Media Depictions and Media Consumption," Opportunity Agenda, 2011. https://act.colorofchange.org/go/9759?t=15&akid=8097%2E1174326%2EXGzYYv