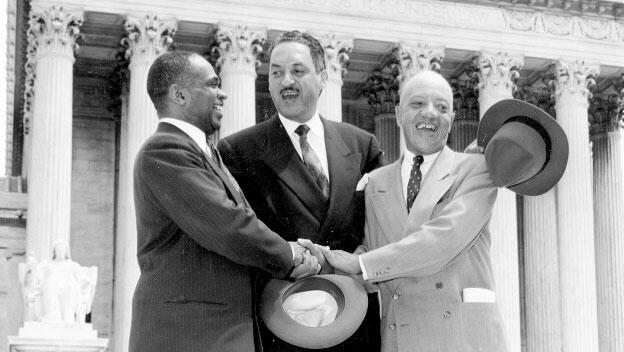 Posted by Robin Caldwel
On May 17, 1954, Supreme Court under Chief Justice Earl Warren rendered a unanimous, landmark decision (9-0) declaring that state laws establishing separate public schools for black and white students and denying black children equal educational opportunities unconstitutional. The Brown v. the Board of Education of Topeka ruling overturned previous "separate but equal" rulings, including the 1896 decision, Plessy v. Ferguson. In effect, separation by race de jure (by law) violated the Equal Protection Clause of the Fourteenth Amendment of the United States Constitution.
In 1951, thirteen Topeka parents filed the class action lawsuit on behalf of their 20 children in the United States District Court for the district of Kansas. Leaders of the Topeka NAACP recruited the plaintiffs with Oliver Brown as the named plaintiff in the suit. The contention was that the state of Kansas, essentially, did not comply with separate but equal facilities for black and white children. Oliver Brown's daughter, Linda, had to walk 6 blocks to catch a school bus that took her to the black elementary school 1 mile from their neighborhood, while a white elementary school was only seven blocks from the Browns' home. Brown tried to register Linda at the school but was rejected. The Brown lawsuit was presented before the Supreme Court on appeal along with other suits representing plaintiffs in Washington, D. C., Virginia, South Carolina and Delaware.
The plaintiffs by name are as follows: Oliver Brown, Darlene Brown, Lena Carper, Sadie Emmanuel, Marguerite Emerson, Shirley Fleming, Zelma Henderson, Shirley Hodison, Maude Lawton, Alma Lewis, Iona Richardson, and Lucinda Todd.
Chief counsel for the NAACP, Thurgood Marshall, argued the case before the Supreme Court.