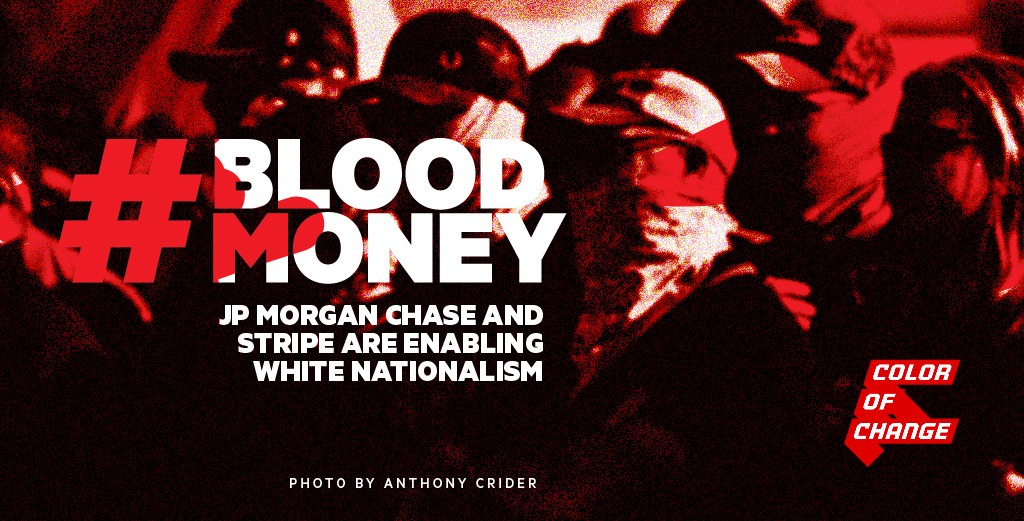 WEDNESDAY AFTERNOON, the Proud Boys stormed the United States Capitol building with clear intentions of intimidating D.C. residents, starting conflict to advance their racist agenda, and lethally threatening anyone that stood in their way. Once again, JP Morgan Chase and Stripe financed, mobilized, and even profited from these acts of white domestic terrorism.
Earlier this week, Enrique Tarrio was arrested and charged with property destruction and possession of two high-capacity firearms. On December 12th, the Proud Boys leader torched a Black Lives Matter banner belonging to Asbury United Methodist Church—a historic Black church in Washington, D.C.—and on January 4th returned "armed and ready" to intimidate Black people and incite racial violence at Wednesday's "Overturn the Election" rally.
Within hours of Enrique Tarrio's arrest, GiveSendGo began using JP Morgan Chase (through WePay) and Stripe to process donations for his legal defense and related white nationalist causes—such as medical assistance for any Proud Boys injured while assaulting protestors and travel expenses for those seeking to attend the "Stop the Steal" event or other white nationalist rallies. In the past 48 hours alone, GiveSendGo has raised nearly $300,000 for the Proud Boys.
JP Morgan Chase and Stripe have an ethical duty and moral responsibility to shut down cash flow to white supremacists. According to Stripe's Terms and Conditions any organization that "engages in, encourages, promotes, or celebrates unlawful violence to any group based on race…" must be restricted from using the platform. While JP Morgan Chase lists "hate, violence, racial intolerance, and terrorism" as prohibited merchant activities. The Proud Boys are a known white supremacist hate group, and GiveSendGo is a known white supremacist hate site. JP Morgan Chase and Stripe have consciously prioritized profit over Black lives and public safety.
Corporations cannot continue to build wealth at the expense of Black lives nor with the help of Blood Money. We are calling on JP Morgan Chase and Stripe to cease payment processing for Enrique Tarrio on the crowdfunding site GiveSendGo, ban accounts associated with the Proud Boys or any white nationalist hate group, and desist from further servicing GiveSendGo and other white nationalist hate sites, effective immediately. Black lives depend on it, and their stated commitments to stop profiting from white nationalist hatred and violence command it.
colorofchange.org