In case you missed Meet the Press , here's what YOU made possible: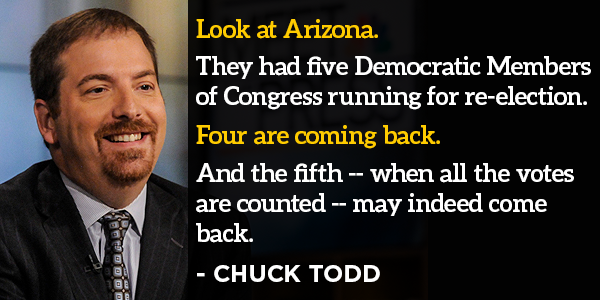 That's right — despite the Republican wave, Democrats are 4-for-4 in deep-red Arizona.
And that fifth too-close to call race?
That's gun violence prevention advocate and former Congresswoman Gabby Giffords' old seat.
We were down on Election Night, but we just some great news: Former Giffords aide Ron Barber has closed the gap to 341 votes.
If this trend holds, Barber can still pull into the lead and win!
We wouldn't have this opportunity to win without you:
Your donations and volunteer hours allowed to us reach out to key voters in this race over 133,000 times.
133,000 Door Knocks and Phone Calls
And the current margin?
341 votes

We just can't say it enough: Your grassroots support is literally making the difference between victory and defeat in these close races.
We can't say thank you enough for all you've done.
All of us at the DCCC
P.S. The single most important thing we can do right now is ensure that every vote is counted fairly and accurately. Unfortunately the Republicans are already trying to throw out ballots:
Tucson Weekly:
In what remains one of the tightest congressional races in the country, Republican candidate Martha McSally's legal team is taking steps to toss out the ballots of voters in Pima County