During an event in Ferguson where hundreds of people marched for an end to police brutality, police confiscated our Governor Nixon mobile billboard and arrested the truck driver, who was then held in police custody for hours and later released.1 Witnesses say police in an unmarked car targeted the driver and ripped him from the truck before he was even able to undo his seat belt.
It's a shameful attempt to silence our message and diminish our power, but we won't be stopped. Now, the "accountability truck" is back on the road and it's time to redouble our efforts to hold Governor Nixon accountable. In just a few days, a grand jury will decide whether or not Officer Darren Wilson will be held acountable for killing Mike Brown — meaning the time for Gov. Nixon to secure a special prosecutor and protect the right to free speech and peaceful protest is now.
Will you help amplify already growing media and public pressure on Governor Nixon?
Share this image of the Governor Nixon "accountability truck" on Facebook.
Tweet this image at Governor Nixon.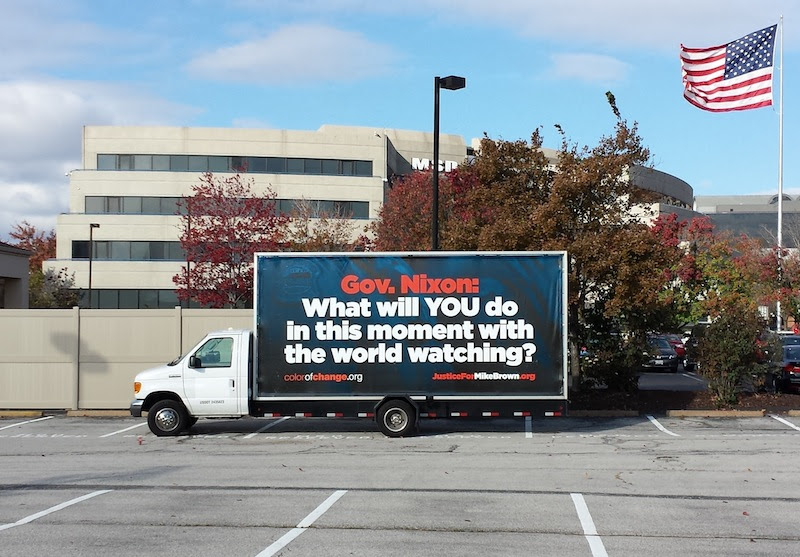 When communities are prevented from speaking out and challenging their country we are no longer in a democracy; we are no longer in America. From the unconstitutional "keep walking" rule that was ultimately shutdown by a federal judge2 to unlawful arrests, tear gas, and rubber bullets,3 Missouri law enforcement have consistently violated the constitutional right to free speech and peaceful demonstration since Officer Wilson killed Mike Brown. The confiscation of the "accountability truck" and arrest of the driver is just another instance of these outrageous and discriminatory intimidation tactics and police abuse, which Governor Nixon must immediately address.
Right now there are military tanks in St. Louis, which suggest police are preparing to crackdown on peaceful protesters after the grand jury verdict is announced.4 Failure by Governor Nixon to take immediate action to keep Black Missourians safe and secure justice for Mike Brown only condones further police brutality and human rights violations. We will not sit idly by as police treat courageous Missourians as enemy combatants.
If enough people take action today, we can show Governor Nixon the cost of his inaction and hold him accountable for securing a special prosecutor and enforcing a higher standard of police conduct across the state.
Call out Governor Nixon's failed leadership on Facebook.
Demand #JusticeForMikeBrown on Twitter.
Thanks and peace,
—Rashad, Matt, Arisha, Lyla, Jamar and the rest of the ColorOfChange team
November 8th, 2014
References
1. "Activists rip Ferguson cops for seizing 'rolling billboard' criticizing Gov. Jay Nixon," RawStory 11-06-2014 http://act.colorofchange.org/go/4324?t=6&akid=3893.1174326.EfyXLv
2. "Ferguson protest leaders seek 48 hours' notice of indictment decision" Guardian 11-06-2014
http://act.colorofchange.org/go/4325?t=8&akid=3893.1174326.EfyXLv
3. "Police Violated Constitutional Rights Of Ferguson Protesters, Federal Judge Rules" Huffington Post 10-06-2014
http://act.colorofchange.org/go/4326?t=10&akid=3893.1174326.EfyXLv
4. "On the Streets of America: Human Rights Abuses in Ferguson," Amnesty International Report 10-24-2014
http://act.colorofchange.org/go/4327?t=12&akid=3893.1174326.EfyXLv
5. ShordeeDooWhop Tweet 11-05-2014
http://act.colorofchange.org/go/4328?t=14&akid=3893.1174326.EfyXLv