Dear friends, 
The Arctic is BURNING, creating a smoke cloud bigger than the European Union!!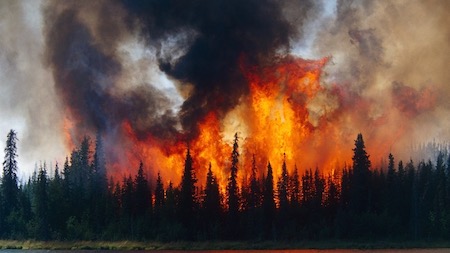 The planet hasn't seen anything like it in 10,000 years — July was the hottest month ever recorded! This isn't global warming. It's global scorching. And it's going to get much, much worse…
It's terrifying, but nothing is more dangerous than giving up hope – because we CAN still turn this nightmare scenario into a beautiful, clean, green future for our children and grandchildren!
That's why Avaaz is going all out on a 16-month plan to turn things around — beginning at a decisive UN climate summit next month, and culminating at the end of next year at the most important climate talks since the Paris deal was inked. Here's how we can win:
• Push governments to declare a climate emergency and commit to 100% clean energy
• Help get millions to join brave children for the biggest climate strike in history next month
• Offer trainings to the most inspiring youth climate leaders around the world
• Face down Big Oil blockers and their cronies wherever they threaten to take power
But for this to work, we need to get started right now! If 10,000 of us donate just the cost of a coffee per week, we can power this global climate resistance to defend everything we love.
Chip in what you can now — and let's build a world we're proud to pass onto our children:
Some have already given up on tackling climate change. But the truth is, we already have all the tools we need to create a thriving clean, green global economy! Renewable energy is now often cheaper than fossil fuels, and around the world, an inspiring movement of young leaders is rising, determined to secure a 100% clean future for all of us.
Right now they're coming under vicious attack from climate deniers and the fossil fuel industry, but together we can throw the power of our movement behind them and go all out ahead of next month's summit — then, show up at every major political moment in the next 16 months, fighting for everything we love!!
No other movement has the global reach to do this everywhere, and at scale. Avaaz, and everything we achieve in the world, is funded 100% by small donations like this — so chip in a small weekly amount, and let's fight for a future worth living:
Before the Paris climate talks, they said our movement's goal of 100% clean energy was impossible. But together, we made magic happen, with massive global marches, beautiful actions and smart inside advocacy, and now countries around the world are producing 100% clean plans! But too many are lagging behind, putting everything at risk — and our movement of millions is needed again.
With hope, love and lots of determination,
Bert, Marigona, Joseph, Risalat, Rosa and the whole Avaaz team
PS – This might be your first donation to our movement ever. But what a first donation! Did you know that Avaaz relies entirely on small donations from members like you? That's why we're fully independent, nimble and effective. Join the over 1 million people who've donated to make Avaaz a real force for good in the world.
More Information:
Climate change: 12 years to save the planet? Make that 18 months (BBC)
https://www.bbc.co.uk/news/science-environment-48964736
Huge swathes of the Arctic on fire, 'unprecedented' satellite images show (The Independent)
https://www.independent.co.uk/environment/arctic-circle-wildfires-climate-change-greenland-alaska-siberia-photographs-a9015851.html
Arctic wildfires spew soot and smoke cloud bigger than EU (The Guardian)
https://www.theguardian.com/world/2019/aug/12/arctic-wildfires-smoke-cloud
In Europe, a historic heat wave is shattering records with astonishing ease, may hasten Arctic melt (Washington Post)
https://www.washingtonpost.com/weather/2019/07/24/europe-historic-heat-wave-is-shattering-records-with-astonishing-ease-may-hasten-arctic-melt/
'Everyone Should Mobilize': Climate Leaders Urge Massive Turnout for Sept. 20 Global Climate Strikes (Common Dreams)
https://www.commondreams.org/news/2019/07/24/everyone-should-mobilize-climate-leaders-urge-massive-turnout-global-climate-strikes
Chip in what you can now — and let's build a world we're proud to pass onto our children: