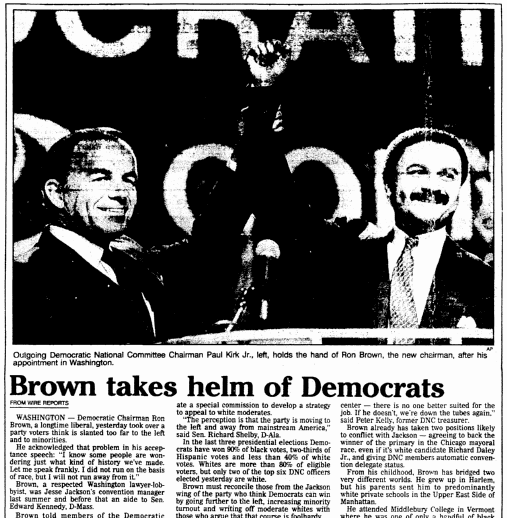 Ronald Harmon "Ron" Brown achieved a historic first on 10 February 1989 when he was elected chairman of the Democratic Party – the first African American chosen to lead a major political party in the U.S. Brown came to this position with an impressive set of credentials. A respected and successful lawyer, he worked on Massachusetts Senator Edward Kennedy's 1980 bid for the presidential nomination, and on Jesse Jackson's 1988 presidential campaign.
Despite his experience and qualifications, there was a great deal of opposition to an African American being elected chairman of the Democratic National Committee – as shown in the following three newspaper articles. The first article is a news account of his election, while the other two explore reaction to Brown's election in Alabama, a state at the heart of the unrest and violence of the Civil Rights Movement in the 1950s and 1960s.
Despite these reservations and objections, Brown skillfully played important roles in running the 1992 Democratic National Convention and in Bill Clinton's successful presidential campaign that same year. President Clinton nominated Brown to be Secretary of Commerce in 1993 – the first African American to hold that position as well – and it was in that capacity that Brown's life came to a tragic end when he was killed on 3 April 1996 in a plane crash in Croatia while on a trade mission. He was 54 years old.
For more of this story go to  blog.genealogy