Meek Mill is free but thousands of other people still sit in Philadelphia jails being held on detainers, with no court date or opportunity to post bail.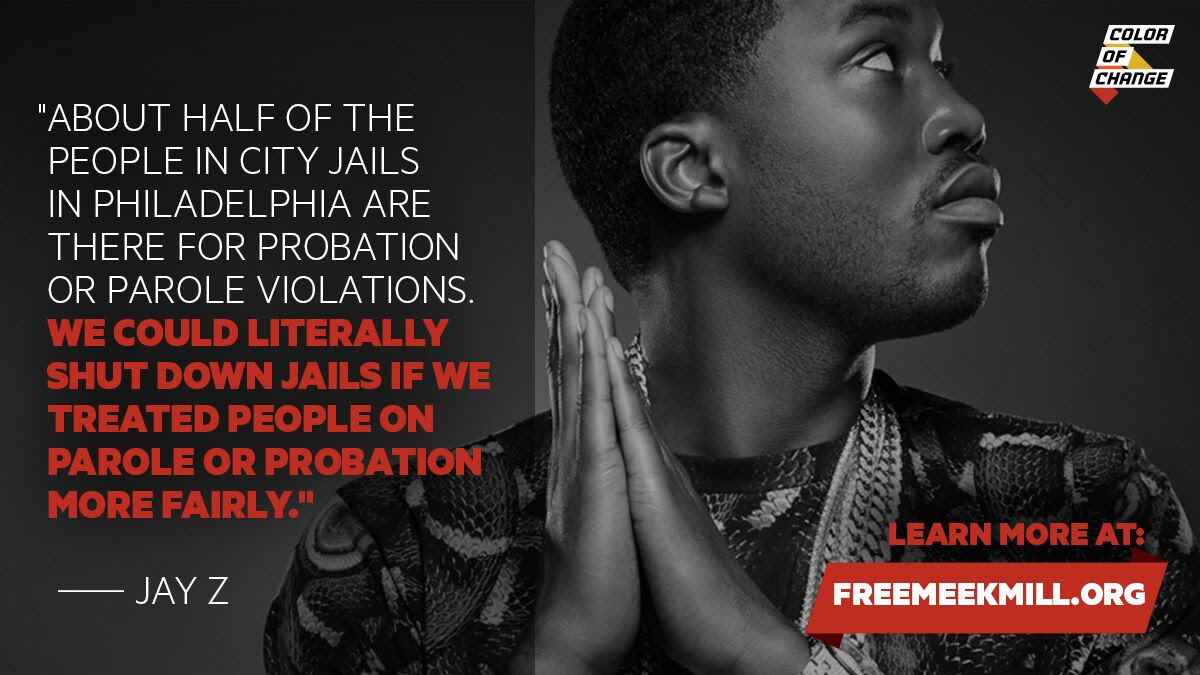 Demand President Judge Shiela Woods-Skipper end the use of detainers in Philadelphia. 
–Meek Mill is finally free!
The Pennsylvania Supreme Court ordered his immediate release yesterday–this is huge, but there are still thousands of other Black people that should be freed with him.1 Let's get all our people out.

Meek's case has been so important, not only because it calls out the injustice that he's experiencing within the criminal justice system, but it has allowed us to shine a light on the unjust experiences of so many others. Today there are thousands of other Philadelphians who are sitting in jail on probation detainers, waiting for their day in court, and not even offered the option to post bail for their release. In Philly, over 50 percent of people in city jails are being held without a hearing on probation detainers.2 
Sign the petition: The Philadelphia Court of Commons Pleas must stop the use of detainers to hold people in jail before they even get a chance to see a judge.
Detainers allow probation officers to jail people due to alleged probation or parole violations, without a judge even hearing the case. People who are in jail on detainers have no option of pretrial release. This means if you're on probation or parole and miss a meeting with your probation or parole officer, or for something as minor as a traffic violation, your probation or parole office could put you in jail on a detainer. You could spend months in jail, waiting for a backed up system to process the papers necessary to schedule your court date.2 The use of detainers is illegal and Judge Shiela Woods-Skipper has the power to stop this practice.3
This is not what justice looks like. The use of detainers keeps people in jail for months at a time without even giving them a day in court.
Detainers are used as a way to unjustly keep our people locked up–join us in demanding that Philadelphia immediately end the use of detainers.
Philadelphia already has the second highest rate of incarceration in the U.S. and half of the people sitting in jail are there because of probation or parole violations. Detainers are being used to keep people in jail with absolutely no access to justice and often people wait in jail for their court date for longer than what their sentence could potentially be. However, there is hope–by simply ending the use of detainers in Philadelphia the jail population could significantly decrease. Philadelphia's criminal justice system has been feeling our pressure in demanding for Meek Mill to be free, and today they listened to us and Meek will be able to go home. We must keep the pressure on until all our people are home–we were able to free Meek and we can free so many more!
Meek Mill has been on probation since he was 19 years old–his entire adult life. Even after spending time in prison as a teenager, when he was released he was placed on probation. Meek is now 30 years old and has been sentenced to two to four years in prison by a biased judge seeking to punish him for insignificant violations of his probation–one was even as petty as riding a dirt bike in New York City to film a scene for a music video.4
Meek Mill's case has generated a lot of conversation about the trap of the probation and parole system–and how it keeps so many Black people living under the supervision of the criminal justice system for years. Jay-Z stopped one of his concerts to talk about the injustice Meek is experiencing, he then wrote a New York Times op-ed about this, Colin Kapernick has spoken out for Meek, and his case is even getting covered on daytime television shows like the Wendy Williams show.4 What's even better than getting so much public attention about Meek's case is that the conversation has moved past just Meek and is inclusive of broader issues within the criminal justice system, like the unjust use of detainers illegally trapping so many in jail.
Demand that President Judge Shiela Woods-Skipper end the unjust use of detainers in Philadelphia immediately.
Until justice is real,
–Clarise, Rashad, Scott,  Arisha, Kristen, Anay, Marena, and the rest of the Color Of Change team
References:
1."Meek Mill to be released from Prison," CBS News, 24 April 2018
2. "How minor probation violations can lead to major jail time," The Atlantic, 9 June 2017
3. "Top public defender says 'automatic detainers' are illegal, swelling Philly jail population," whyy.org, 27 March 2018
4. "Jay-Z: The criminal justice system stalks Black people like Meek Mill," The New York Times, 17 November 2017